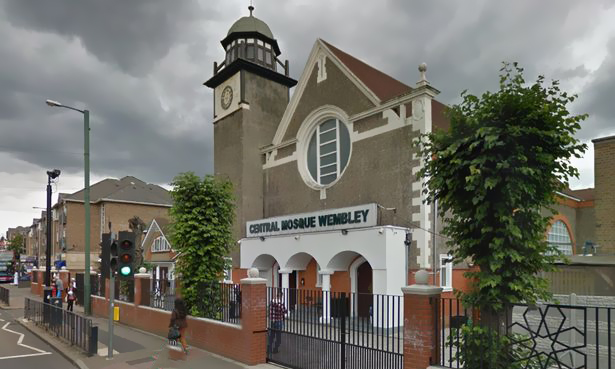 Wembley Central Masjid was initiated by the elders of our community in the early 1980s, who shared a concern and commitment for the spiritual and educative needs of local Muslims. Like most Masjid histories, Wembley Central Masjid had a modest beginning, with the committee purchasing its first site on Harrowdene Road in 1985. This 3-storey semi-detached house with space for 400 worshippers soon became overwhelmed by the growing community, yet faithfully served as a Masjid for the following 8 years.
 The current building was purchased for £380,000, half of which was raised through the sale of Harrowdene Road and the other half from the generous interest-free loans of Muslim Brothers and Sisters. These Qard Al Hasana were duly paid back over the following 8 years.
The old church was built in 1904 to the design of Thomas Collcutt and Stanley Hemp, in a style strongly influenced by the arts and crafts genre. Prior to the building being purchased by the Masjid committee , it had been vacant for nearly 15 years, and was gravely neglected and not suitable for occupation. The Masjid committee set about trying to restore the building with some urgency, in order that it could be used by the local community. The building was listed Grade II on the 4th of November 1993, shortly after being purchased by the Masjid committee, and is therefore subject to statutory provisions governing alterations to listed buildings. In its dilapidated condition, the Masjid trust immediately spent over £100,000 on refurbishing the new Masjid and adding necessary Islamic facilities such as ablution area, a basic tearoom and library.
Due to an unforeseen and misfortunate electrical fault, the Masjid hall adjacent to the old church building was severely damaged by a fire in 2003. The tremendous sadness and loss accompanying this event was soon overtaken by a desire to rebuild and improve this important section of the Masjid. The local and regional Muslim community reacted in a typically loyal and encouraging manner, and the £500,000 rebuild cost was re-paid within 2 years. Alhamdulillaah, this re-opened section included a brand new first floor and caretaker's residence.
With new extension in place now WCM can easily accommodate 1250 worshippers.
OUR VISION
The vision of Wembley Central Masjid is to preserve, implement, and disseminate Islamic knowledge, as well as nurturing and preparing our future leaders through sound, traditional understanding and learning. Wembley Central Masjid is unique in that along with providing a beautiful sanctuary for worship, it also incorporates a educational institute. Wembley Central Masjid serves as a community center for residents while Wembley Central Masjid Madrassah offers beginner through advanced classes in various Islamic sciences. We are grateful to Allah to have a number of young, British born, qualified Islamic scholars on our staff in addition to enjoying the support of many ulama from across the nation.
OUR ASPIRATION
After reflecting on the history of British Muslims, it is apparent that Islamic scholarship has arrived on this country's shores in successive waves. The first generation of immigrant Muslims, still strongly tied to their homelands, invited scholars born and educated abroad to teach them in their native languages and help them live their deen harmoniously in the new land. Thereafter, their children, immersed in the British language and culture, called for scholars who could relate to them. So a second wave of scholars, this time British-born Muslims. travelled overseas and acquired the knowledge they needed to serve their generation. Now the time has come to raise up a new wave of learned Muslims who have been born, bred, and educated at home. A wave that will duly fill the sacred posts of Imams and Scholars, address Islamic legal and social issues and challenges unique to the Western context, convey with clear expression the true spirit of Islam to our non-Muslim fellow citizens, and establish institutions that will be forces of good, both spiritually and intellectually. Wembley Central Masjid aspires to prepare these future leaders to take on the challenges for generations to come.